Relaxing massages and treatments
Do you need to calm down for a while, enjoy your moment of well-being and relieve your mind from everyday worries? Relaxation treatments combine pleasant with useful - they will help you induce mental well-being and also regenerate your body.
Vyberte si
pre vás vhodný deň
The Polynesian ritual takes you through the beautiful scents through the four Polynesian islands.
Massage includes:
Whole body peeling with vanilla oil, sea salt and crushed bonelets of exotic fruit
Tuiponos massage with bags filled with warm sea sand from Polynesian beaches
Final massage with Dry Oil, which gives to your skin golden pearl effect
 
Herbal oil massage with body candle application 45 min.
The body candle is made of cotton, beeswax and rosemary oils.  The heat created by candle burning will release accumulated fat and drain off it from your body.
Then begins the healing process of organism and your body is acquited of toxicants.
COLD CREAM MARINE Body ritual 60 min.
Body treatment for dry and very dry skin with 2 in 1 body balm application
Massage is a highly relaxing treatment for tired skin in winter and also in summer. Cold Cream Marine cleanses, softens and strengthens the skin while nourishing and regenerating.
Massage includes:
application of a nourishing body cream followed by wrapping
Short head massage
whole body 45 min. massage
INTEGRATIVE SLIMMING highly effective treatment for body shaping 45 min.
The treatment is aimed at skin strengthening . By kneading the active oxygen in the body wrap, the skin tissue becomes oxygenated, the metabolism is started, which instantly releases excess water and fat from the adenoblast.
Massage includes:
Application of active oxygen wrap on problematic parts of the body
Anticellulite massage by applying a massage gel and a corrective concentrate
Ultimate application of skin cream for slimming and firming
"MER & SENS" Lava stones massage 45 min.
These stones are made of minerals that create balance. Cold stones come from the depths of the sea where they are rehashed by constant wave movement which shape them into the fine forms. Warm volcanic stones come from the depths of the earth and get to the sea in a long flow of lava.
INDOCEAN – RELAXATION SPA TREATMENT WITH ORIENT AROMAS 75 min.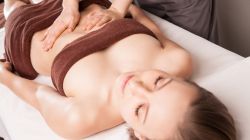 The relaxing treatment of the body leads you through the beautiful fragrance of the Orient. The body will fill the feeling of peace, harmony and inner strength during the massage
Massage includes:
a sugar-salty body peeling that gives the skin a beautiful velvet look
QI balzam - application of precious balsam to key body centers that eliminates stress and feeling of tension
body massage with luxury massage oil
cocktail oils - sandalwood, cedar, patchouli and curative regenerative oil
a gentle body wrap
AROMACEANE – warm mud body wrap 75 min.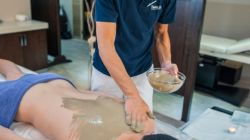 Massage has beneficial effects on the skin of the whole body, which it nourishes, hydrates and mineralizes perfectly. This massage is very suitable for people with very sensitive skin, iodine allergy and thyroid disorders.
Massage includes:
Foot massage
Application of the salt and mud wrap
Body peeling with a mixture of sea salt and mud - final relaxation massage
Relaxing body massage with heated Herb Oil, applying a warmed Herb bag on problem body parts.
Classic massage belongs to the most sought-after and popular massages. A masseur will select intensity and pressure of massage movements as you wish. The oil used during the massage will provide nice slip that will make the massage a pleasant and relaxing procedure. The massage is suitable mainly for improving of blood circulation, it repairs the nerve and hormone systems, removes muscle stress and contributes to the relaxation of the whole organism.
Reservation ONLINE
Lowest price guarantee